(img src: just jared)
Adele kicked off her world tour at the SSE Arena in Belfast, Ireland on Monday with a huge surprise for her fans - a wedding proposal done on stage.
No not hers, but a female fan of hers.
During the opening night of the singer's 25 tour, Adele brought up an audience member who wanted to ask her boyfriend's hand in marriage in front of an audience of 11,000. The woman revealed that she had previously proposed to her boyfriend, but he responded "Maybe, in a little while.".
Adele took initiative and told the man, "You have to say 'yes', or [the crowd] is going to turn on you". You can hear the crowd start booing him and it's pretty funny.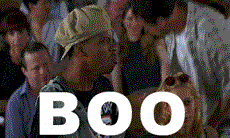 Check out the video for yourself and see the memorable moment.
---
RELATED